PAY.ON AG is one of the world's leading operators of payment infrastructure systems, whose cloud services meet all of the needs and requirements of the modern and globally connected payment processing. As a white-label provider, PAY.ON guarantees its clients (PSPs, ISOs, acquirers, and financial institutions) a complete independence. The full range of the omnichannel PAY.ON platform allows users to activate an ad hoc proprietary system with all the relevant payment and fraud management processes, including global connectivity and the latest fraud and charge prevention – which can be supplemented at any time to include external tools and market-tested PAY.ON services, such as the quick merchant onboarding and mobile payment.

At the core of PAY.ON's gateway solutions is the Open Payment Platform (OPP), based on open API architecture and available through the single integration. The modular PAY.ON gateway enables the prompt connectivity expansion of existing systems via a single proprietary API.

PAY.ON is also a supplier of the white label platform PaySourcing and the routing gateway PayPipe. PaySouring makes it possible for customers to outsource all relevant payment and risk-management processes, or procure them via cloud computing and thus become a payment service provider themselves. PayPipe is a high-performance payment gateway that connects all payment market participants with each other using just one interface. Using PayPipe, transactions can be processed online for all payment methods in all currencies and across all systems.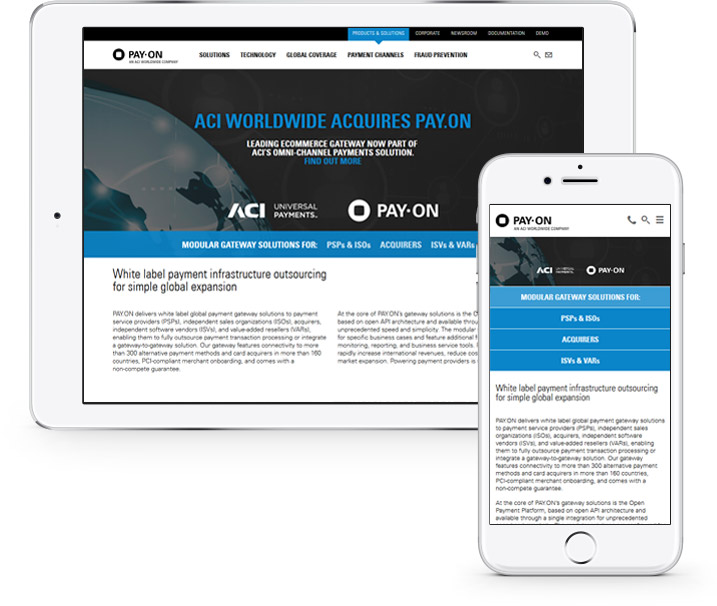 International expansion presents huge opportunities for payment providers, far beyond what is possible in any single domestic market. Worldwide, e-commerce is worth more than $1.5 trillion per year and it is growing rapidly. Successful international expansion requires offering not just the right payment methods and acquiring options, but also the ability to configure them quickly and efficiently. This is what PAY.ON wanted to deliver through its global payment network.

Also, PAY.ON wanted to operate with an extensive global payment network that would cover the high number of payment methods in different e-commerce markets around the world.